---
---
9ft billiard table
Xingjue's Spokesperon: Kelly Fisher vs Yu Haitao.
XJ-9-6-2 Model is Tournament standard for home or club use.
Specifications:
– Cyclop ball set 
– Andy588 Blue Cloth in your choice of colour
– Taiwanese Premier Black K55 cushions
– 26 Point slate levelling system
–House 57″ Cues x 4 (shorter cues available)
– 25mm, 3-Piece Top Grade Natural Slate
– Table cover
– Triangle
– Cue rest with universal head
– Brush
– Wall rack for up to 6 cues
– Chalk x 12 pieces
Table photos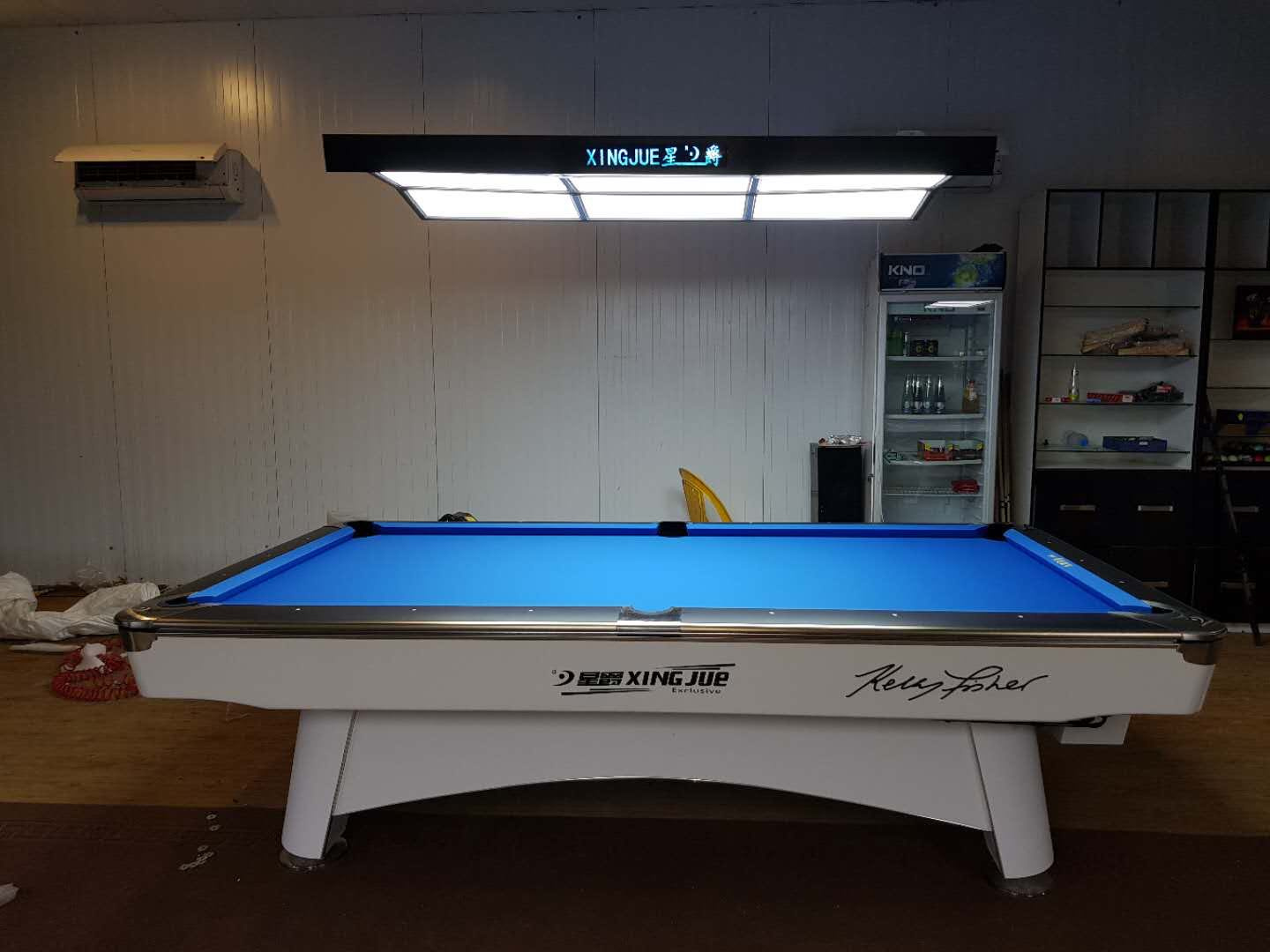 Related models:
FAQ
Q. What size room do I need?
For perfect cueing room these are the minimum room sizes:
8ft – 410cm x 520cm
9ft – 425cm x 550cm
However it is possible to use the table without significant loss of playability at about 15cm
(6 inches) less than these figures if you have a 52" (or shorter) cue on standby.
If you are unsure about anything at all with the setup of your room please get in touch –
we're here to help.
Q. How About Shipping?
We could arrange shipping to your nearest sea port (CIF Term), By this waym, you have
destination port fee and you do custom clrearance and picking up at your nearest sea port.
Or drop shipping to Most Europe countries, USA, UK, Canada, Austrilia, Germany, France, Italy.
Please contact me for shipping details before ordering.
Q. How about Installation?
For Retail customer, we could offer installation Video.
Q. How long is the production time?
Normally 10 days for one set, 30 days for 20ft container.
Q. How long is the warranty?
Our standard warranty is 10 years – this covers everything on the table except the cloth
and the balls.
Our tables are absolutely rock solid and have almost nothing that can go wrong with them
– they will look as good after 10 years as they did the day they were installed.
Q. Are the tables drop pocket or ball return?
Both fine.
Q. Are the tables OK for outdoor use?
Yes – in covered outdoor areas no worries and unlike most other tables available in Asean
ours won't slow down when it gets humid (as long as you keep the cloth and balls in good condition).
It's worth remembering though that on tables that are installed outside the cloth lifespan
will be shorter as bugs get squashed into the cloth when the balls roll over them –
expect to be changing cloths on outdoor tables every 6 months as opposed to every
1-2 years (or more) on indoor tables. 9ft billiard table
Q.Tech SpecsSize (Playing Surface):
8ft – 44″ x 88″/9ft – 50″ x 100″ 9ft billiard table

Weight and CBM:8ft – 500kg, 1.6cbm/9ft – 550kg, 1.95CBMPocket Sizes:
8ft – Corner Pockets 12.0cm / Middle Pockets 13.2cm
9ft – Corner Pockets 11.7cm / Middle Pockets 12.9cm
Shipping & Package:
---