---
---
12ft Snooker Table Room Size  snooker table for sale
XJ-12FT-SR1 is the most Luxury snooker table.
Specifications:
1.2 cm thickness Steel Cushion, Original UK Northern rubber, 6811 New Gold club cloth;
Best real leather pocket with brass corner, 45mm 5-piece slate,
Cushion: Solid wood with Laminated Wilsonart fireproof wood.
All other parts solid wood. 12ft Snooker Table Room Size 
Standard Accessories:
Aramith Tournament Champion Ball
Four LP Three-piece cues
cue hook
wave hook
10 piece tip
2 piece chalk 12ft Snooker Table Room Size 
Electric mark boar
Long stcik & Long rest cue
Two Rest cues with cross
Plate
Triangle
Gloves
1 x Thermostatic Table Iron for choice (not include in table price). 
1x Under table Table Heaters for choice (not include in table price).
1- 1 meter x 3 meter tournament light for choice(not include in table price).
10 Year Warranty on all Snooker Tables.
Below is the standards accessories: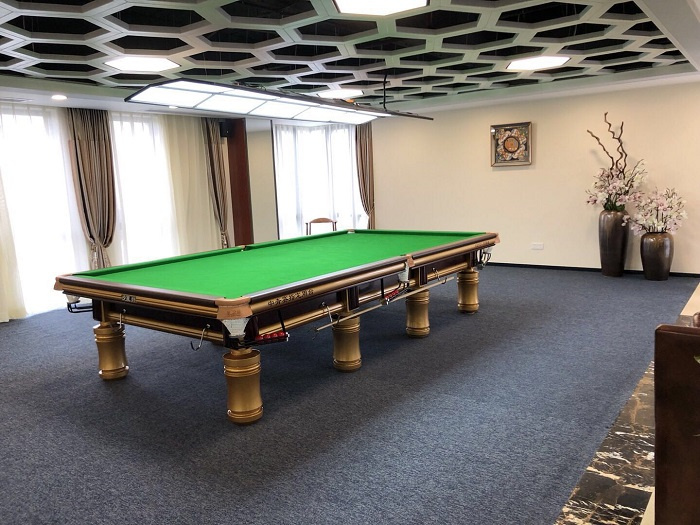 Tournament:
The World Champion's Choice:
Company and Factory:
Shipping & Package:
FAQ:
Q. What size room do I need?
For perfect cueing room these are the minimum room sizes:
12ft – 6520x4730mm
However it is possible to use the table without significant loss of playability at about 15cm
(6 inches) less than these figures if you have a 52" (or shorter) cue on standby.
If you are unsure about anything at all with the setup of your room please get in touch –
we're here to help.
Q. How About Shipping?
We could arrange shipping to your nearest sea port (CIF Term), By this waym, you have
destination port fee and you do custom clrearance and picking up at your nearest sea port.
Or drop shipping to Most Europe countries, USA, UK, Canada, Singapore, Thailand,
Philippines.
Please contact me for shipping details before ordering.
Q. How about Installation?
For Retail customer, we could offer installation Video.
Q. How long is the production time?
Normally 7 days for one set.
30 days for 20ft container.
Q. How long is the warranty?
Our standard warranty is 10 years – this covers everything on the table except the cloth
and the balls.
Our tables are absolutely rock solid and have almost nothing that can go wrong with them
– they will look as good after 10 years as they did the day they were installed.
Q. Are the tables drop pocket or ball return?
Both fine.
Q. Are the tables OK for outdoor use?
Yes – in covered outdoor areas no worries and unlike most other tables available in Asean
ours won't slow down when it gets humid (as long as you keep the cloth and balls in good condition).
It's worth remembering though that on tables that are installed outside the cloth lifespan
will be shorter as bugs get squashed into the cloth when the balls roll over them –
expect to be changing cloths on outdoor tables every 6 months as opposed to every
1-2 years (or more) on indoor tables.
Q.Tech Specs

Weight and CBM:
12ft – 1200kg, 2cbm
Pocket Sizes:
Corner Pockets 8.5-8.8cm/ 9cm
---